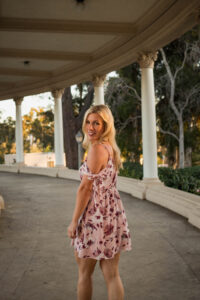 Based out of San Diego, CA Marisa has successfully helped athletes develop elite level mindsets to elevate their performance to their highest level. Marisa has a Masters in Performance Psychology, and is certified as a personal trainer and yoga teacher. Marisa's training career started very early at the age of four when she started dance lessons. Dance transitioned into basketball and track, and then eventually led to a more well-rounded training program as an adult that focuses on strength, power, speed and recovery. Marisa's favorite sport to watch is rugby, closely followed by football, basketball, and soccer.
The passion for mental skills development came when Marisa experienced a traumatic back injury during a lifting session and did not have the tools to properly cope or recover from this injury in a healthy way. Understanding full-on the heartbreak that injury creates, Marisa wants to help athletes recover faster and come back mentally stronger.
Through yoga, Marisa sets the foundation of mental skills by teaching athletes to be more present using breath-work and recovery poses. Once there is a foundation established, athletes can expect to develop mental tools to help them navigate their athletic career, as well as their lives outside of sports.